Customers share their thoughts on shopping with Imperfect Concepts Boutique.

Tell us what you think of Imperfect Concepts by email us cs@imperfectconcepts.com

Imperfect Concepts Boutique Online store is where it's at if you want to find the most stylish, high-end, unique & reasonably priced thrift finds EVER! Tasha (the owner, of course ;o)) has such a gift & talent at finding only the best merchandise!! I recently purchased a St. John's Bay basket purse that was to die for! It was delivered in no time at all and I was so happy with it all. To top it all off, the hands on & personalized customer service makes Imperfect Concepts Boutique one of a kind!! -Amber

Thank you Tasha, so much for sending me my package. I received it today along with my gift with purchase. I was more in love with my scarf I received then the shoes...LOL. Your site is wonderful and you have a passion for this and I pray your store continues to grow and flourish. Ps. the thank you note was super sweet and truly lets me know you care for your shoppers –Krsytal
OMG... I love my jacket. It is freaking great. Imperfect Concepts Boutique gave me Yves Saint Laurent at the fraction of the price and I am so excited. Thank you and I will be back for more and referring others. -Jamzine
I've purchased several items from Imperfect Concepts Boutique: two purses and a silk top. One of the purses, I get compliments on every time I carry it and the white blouse is quickly becoming one of my fave dress-up items! -LSA
I absolutely loved shopping on Imperfect Concepts Boutique. My first purchase was a hot pair of heels that were an absolute steal. The buying experience was so great it will definitely be the first of many. My shoes arrived in a flash along with a free gift with purchase (a fab mini skirt) and a hand written thank you note. That kind of attention to detail and commitment to great customer service makes me a permanent customer of Imperfect Concepts Boutique. Life for me is entirely too crazy to scavenger hunt designer looks for a fraction of the price. So why not let Imperfect Concepts do the work for me. This fab online store comes highly recommended from a very happy customer. -PP
I received a vintage Ralph Lauren jacket from the Imperfect Concepts Boutique and I was so shocked by the quality of the jacket. All the way down to the stitching, everything was in tact. Good quality and quick shipping is rare to find. What made the package more special was the warm greeting inserted just for being a customer. Something like this makes you not only love what you purchase, but love where you purchase it from. -Janiece
Just got my lovely dress from your store today and I am more in love now that I am wearing it. I know this item will become a staple in my wardrobe. Thank you for fast shipping and the Thank you card was super sweet. -Angel
I had seen the shoes a few weeks ago, but wasn't really thinking about buying them, then when I saw Tasha's tweet about going to the site, I went again, and was surprised to see they were still available. So, I order them. I got them pretty quickly, and I LOVED the packaging. I've never received anything wrapped in a pretty gold bow, not from a company at least. And the handwritten not was definitely a special touch. Shows me Tasha really appreciates her customers. The shoes were the perfect fit, and they were comfortable, and Ill be shopping here again! -Tiffani

Everything I have bought from Imperfect Concepts has been a great addition to my closet. I have bought 3 juicy couture tops, Salvatore Ferragamo boots, Marc Jacobs shirt & I recently just bought the YSL shirt & prada make up that I LOVE LOVE !!!! Tasha even showed me how to style my outfits too. Love the customer service and the personal notes I get every time. Thanks. -Erica M.
Imperfect Concepts Boutique is THE BEST online store I have ever used. They have great pieces of clothing. Good quality, high fashion, standout, show stopping clothes. The shipping is great as well. I place my order and before I know it I have my package. I LOVE how there's a thank you card every time I get a box. It makes me feel very special like I'm VIP. Keep up the good work!!! God Bless -Ashlyn J.
Great customer service does not do Imperfect Concepts Boutique justices. Literally I got an email saying thank you and giving me my tracking & confirmation information. My blouse was at my door step within 2 days. It looked great. Oh & Tasha gave me some great styling tips for my outfit. –Jessica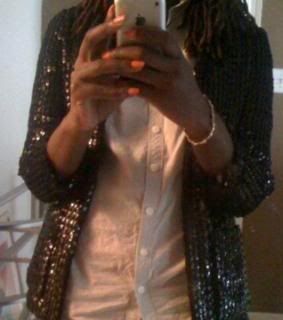 Thank you for having great products! I love my sequin jacket and David Hayes blouse! I really appreciate that the sizes provided by Imperfect Concepts boutique are the actual size, leaving no surprises when my pretty packages arrived. The great and timely customer service and super lovely product that is added regularly makes me a continuous customer! -Rocquelle

I bought a vintage Neiman Marcus sequin blouse from Imperfect Concepts! Not only was I in love with my purchase upon arrival, I also received the best customer service of my life!!!! Tasha consulted me on how to rock my new blouse and her suggestions were right on point! I received compliment after compliment that night. Thank you so much! Can't wait to make another purchase. - Jennifer

I recently purchased a dress/cover-up from the Imperfect Concepts Boutique, and the service was impeccable! The shipping was very fast, and I received my dress nicely wrapped, with a card from the owner. Did I mention that I love my dress?!? The description of the dress was exact, and it fit beautifully. You can definitely find superior high end products at reasonable prices. The quality and level of service I received at Imperfect Concepts Boutique is the best I've received from an online shopping experience. You can tell that the owner is passionate about this store because she has found great and unique merchandise, and she treats each customer like they matter. I would compare my experience shopping online at Imperfect Concepts to shopping in a high end store at the mall. Even though I've never met the owner, I felt as though I met her, and she assisted me throughout my purchase, and post purchase experience. I am looking forward to my next purchase! -Ki Buffin

Love my leopard print Dallas Milo Dress!!! Thank you for your fantastic customer service and assistance with my purchase. I will definitely be recommending Imperfect Concepts Boutique to my vintage designer loving friends. - Mrs. Lisa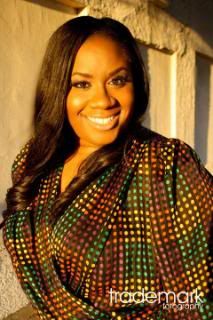 I bought my first pair of Christian Louboutin shoes from Imperfect Concepts Boutique last Saturday. I am absolutely in love with them! I couldn't wait to show them off and wore them the next day. I also received a free gift with my purchase, I like free stuff. I'm definitely addicted to Imperfect Concepts Boutique, so much that I made another purchase yesterday. I can't wait to wear my vintage items that no one will have. I love Imperfect Concepts Boutique! - L. London Stylist of Fashionbly8


I had the pleasure of shopping on imperfectconcepts.com recently. I ordered a pair of Navy and White Salvatore Ferragamo Oxfords (which I was stoked about). Almost immediately after payment I received a thank you correspondence as well as my tracking and confirmation email. Within 24 hours I received an email advising me my item was shipped. I contacted Tasha several times after in regards to the shipping because I hadn't received my item. She went out of her way to check into it (no fault of hers, USPS had lost my item for a few days). She stayed in contact with me to make sure I received my item. When it arrived to my door step I was thrilled. I tried my purchase on and to my surprise they were too narrow. I contacted Tasha again and she offered me continuous support and suggestions. They are being stretched and I am extremely happy at the customer service I received. I will shop again...Thanks for everything.
Fatima TanIa Fashion Stylist/Image Consultant


I have shopped Imperfect Concepts Boutique and I have fallen in love with the whole concept. I purchased this amazing dress and it shipped faster than I had expected. Tasha was able to answer all the question I had about the dress before I made the purchase. To my surprise it fit perfectly, she said it would. Tasha has also exceeded my expectations about her business when she asked me if there was anything in particular I was looking for. She made me feel like she was honored to have me as a client. I definitely feel VIP shopping with ICB. Besides every week is a surprise online. She has an array of items available from so many different designers. You cannot go wrong, no matter what your style is. I will definitely continue to shop with ICB.-Jessenia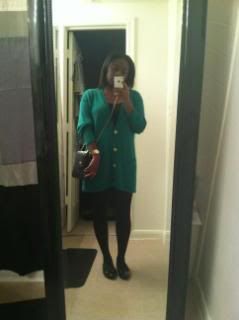 I love shopping Imperfect Concepts Boutique. It offers quality items at a great price and the customer service is superb. Its inspiring to see a young women building her brand and really valuing her customers. For those reason above any, Ill remain a loyal customer... Oh yeah I love my purchases too!! - Tammy Smith


Coming across Imperfect Concept Boutique has been the best thing that ever happen to me. I am a vintage fanatic but sometimes some online vintage stores like to overpriced their items, never provide you with enough information and when the garment arrive sometimes the material is awful. You will never have this problem at Imperfect Concept Boutique. All of their pre-loved and vintage pieces are in perfect condition, clean and must important odor free. Ever since I started shopping with them I have lost all interest in some of my local vintage stores and also online stores. There is no wrong with ICB and what I love about them is that they provide you with all the information you need, they answer your questions fast and their shipment process is excellent. Imperfect Concepts Boutique deserves more than two thumbs up." Berty Morales

I first learned about Imperfect Concepts Online Designer Resale Boutique via Twitter. Through normal, casual conversation and communication the owner and I began following each other. One day I brought up my love of thrifting and she mentioned her boutique. I immediately visited, browsing for shoes and handbags. Her inventory was wonderful and the site had easy navigation. I've made two purchases thus far and the product and service have been exemplary. I will be making future purchases, and am a fan of Imperfect Concepts. It makes designer thrifting accessible and affordable!– L'Asia Brown
I received my clutch and absolutely love it! I really appreciated the beautiful packaging and personal note too. Pysche
I received my lovely vintage dress last night (I would have received it yesterday afternoon, but my postman accidentally delivered my package to the neighbors. Thankfully they aren't thieves.) Now I'll be honest with you. I.Am.Not.A Pink.Girl. At all. But I fell in love with the ringlet, capsleeves! I've never seen that detail on any garment before. And the dress is so much more beautiful in person. It doesn't fit me just yet...but I'm working on that. When it does, I'll be sure to email you a photo. Who knows, by than, I may just become a pink girl - Justine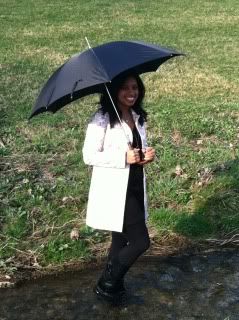 My Burberry Prorsum rain boots may have been the best find ever! They're cute, classic and I got them at an unbelievable price. Many thanks to Imperfect Concepts!- Jessica Mosely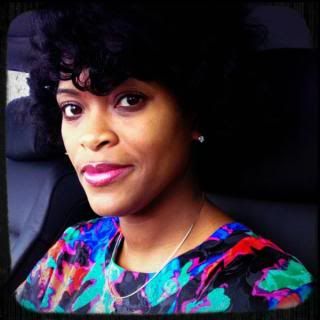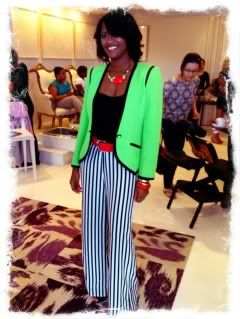 I have found the most amazing pieces from Imperfect Concepts! It's always a treat to score fabulous pieces but it's a bonus when they are designer! I've been able to add Escada, Emanuel Ungaro and killer blouses to my closet without breaking the bank. I LOVE ICB!!! -Kristen of Lily Kai